Celebration ceremonies are non-legally binding weddings and are officiated by one of our celebrants in the language of your choice.
Unlike at a civil wedding, a celebration ceremony is a great way to celebrate your wedding, without the need to worry about paperwork or any restrictions the civil registrar may encounter.
You may choose to have a  civil  ceremony before or after the celebration ceremony. Even if you don't plan to get married legally, there is nothing to stop you having a celebration ceremony.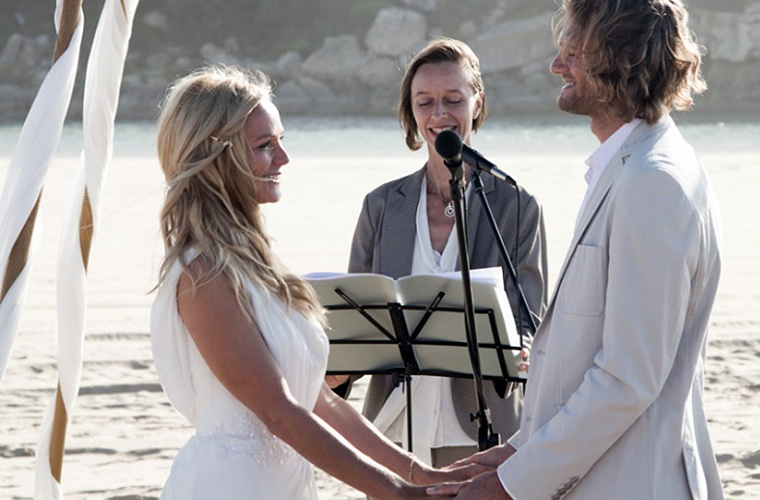 Please read through these sample texts to get an idea of what the ceremony could be like.
You are welcome to mix parts of the different ceremony sample texts and change or edit the texts.
The Fee for our Celebration Ceremonies is from 350 €.
Please contact us for more information and bookings or for a non-­committal chat on Skype or telephone with our celebrants.
You can also find more information and answers to the frequently asked question regarding celebration ceremonies below.
For the celebration ceremony we have the following options:
Celebration ceremony – from 350 €
Celebration ceremony with Your-Story-text – from 450 €,this is including the option of adding your personal story written by one of our ceremony text writers. We create this story text from the information you give us through the detail sheet or through information given through conversations in a Skype or phone call. Don't worry you always have the option to see the text prior to the ceremony and make changes to your liking.
Languages for celebration ceremonies
We offer celebration ceremonies in English, German, Portuguese, French, Italian as well as bi-lingual ceremonies.
We also have some ceremony text samples in Dutch and Russian and can translate texts on request. New translations will be quoted by your wedding planner.
We need the base wedding text, chosen from here
No less than approx. 2 weeks before the wedding. However, it would be better to send it as soon as you have chosen, to give us time to overlook it. If you would like to add a personal story please let us know and either send us the written answers to the below questions or schedule a Skype call with us no less than 1 month prior to the wedding.
We also need you to fill in the questionnaire at the bottom of this page.
You may also choose any of the wedding rites from this link:
http://www.weddingportugal.com/en_GB/wedding-rites-to-add-to-your-ceremony/
We would be happy to write a personal story for your wedding ceremony, please see a samples of a personalized text here:
http://www.weddingportugal.com/en_GB/personalized-your-story-text/
If you would like us to write a personal text about you to add to the ceremony, then please reply to the questions below. This can also be done through a Skype call.
Optional you can just send us a personal story you would like us to include into the ceremony. (no additional costs apply)
Where and when did you meet for the first time?
How and when did you start dating?
Who proposed, how and where?
What does this next step, getting married, mean to you?
What do you like best about your partner?
What do you like least, but agree to live with?
What do the people present as witnesses mean to you?
Is there anyone you'd especially like to mention?
A ceremony rehearsal can be held at a pre agreed time. There is an additional charge which is quoted individually for each wedding.
On the wedding day the celebrant will arrive approx. 1 hour prior to the ceremony.
Whenever possible the celebrant will briefly visit the bride wherever she is getting ready and agree to who will give the signal to the bride to enter the ceremony area.
After this the celebrant meets and greets the groom, who will, if possible, introduce the ring holder and any guests who might be doing the readings.
The celebrant will also inspect the ceremony site and make sure everything is set up correctly.
He/she will talk to the musicians/sound technician to agree on music queues. The celebrant will advise a messenger to the bride when everyone is being seated. Traditionally the groom and celebrant will await the bride at the end of the aisle, however there are other ways to do this for example the couple could walk in together.
Being a celebrant is a task that requests sensitivity to the occasion and a fine tuning of being in the moment.
This is your moment and a good celebrant will manage this in such a way to allow room for all the emotions that go with it and at the same time will be there to guide you safely through.
The moment of taking your vows is an emotional experience for most people.
It is a significant point in time being connected with your family and friends who are sharing the occasion with you.
We also feel very honoured to be part of this.
In case the celebrant booked is not available due to an unforeseen event we will send a different celebrant, ensuring that you have the same quality for the service.