CONGRATULATIONS on your upcoming wedding in PORTUGAL!
All services can be contracted individually
Benefits of the complete wedding service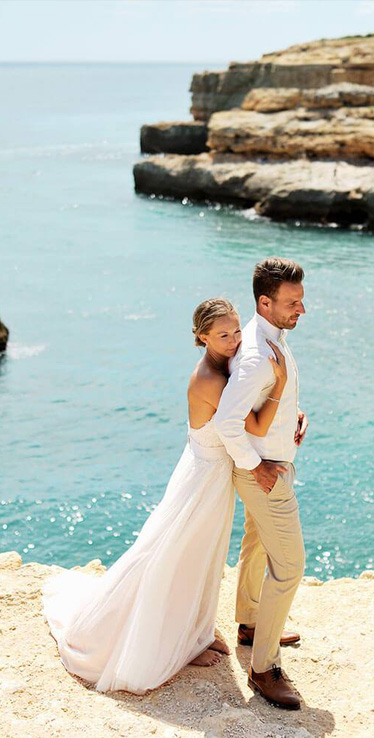 We are currently a team of 8 wedding planners (Melanie, Maria, Xavier, Gloria, Kaja, Sofia, Andreas and Ines), all of us enthusiastic, young in spirit and rich in years of experience.
Our qualities are that we are nice and friendly people ;-), work fast, are reliable and we are transparent (no hidden extra costs) 
We have a broad cultural background of countries of origin as well as countries lived in, which in turn gives us a complete understanding of the challenges faced in a destination wedding. We don't just serve as intermediates and interpreters for you, we also clear any language and culture hurdles whenever necessary.
Furthermore, we are proud that our website gives plenty of real information about getting married in Portugal. We are also all very creative and good at improvising when troubleshooting is needed.
We also have an extensive list of Service providers and locations that we would be happy to recommend and/or book for you.
Dear Xavier,
Again we'd like to emphasize that you made it possible for us to experience an unforgettable and perfect day. We found the perfect location under the bright sunny sky, overlooking the exciting old town of Lisboa! Your calming words were the most valuable gift you could give us in stressful moments on the wedding day and – even more important – during some shaky situations while organising the wedding...
Joana and Alex
Hello Maria!
Thank you for organizing a beautiful wedding for us. The ceremony was beautiful, Melanie did a very good job 😉 The wedding cake was very beautiful, tasty and very big, hehe. The food was excelente ! But the portions was MUCH to big, we did not have room for wine cos we were so full….and very little cake;-) The chef did a very good job in that small kitchen...
Ellen & Erich
Hi Maria,
I wanted to thank you for helping me make the whole event happen, especially for suggesting the location. Suites Alba was amazing. My family and friends could not agree more.
Alison & Florian