Why Should I Renew My Vows?
There are many reason why you might wish to renew your vows and here listed are just some of those reasons :
The first time around you eloped or had a quiet wedding, maybe due to finances, and now you would like to celebrate with your friends and family or have a more romantic and memorable ceremony than before.
You have recently been through a bad patch in your marriage and have come through the storm together and stronger than before and would like to renew your vows to renew the bond between you.
You have overcome a major obstacle as a couple, such as a serious illness or a significant time apart.
You would like to renew your vows on your wedding anniversary to show how strong your love is after ** years together.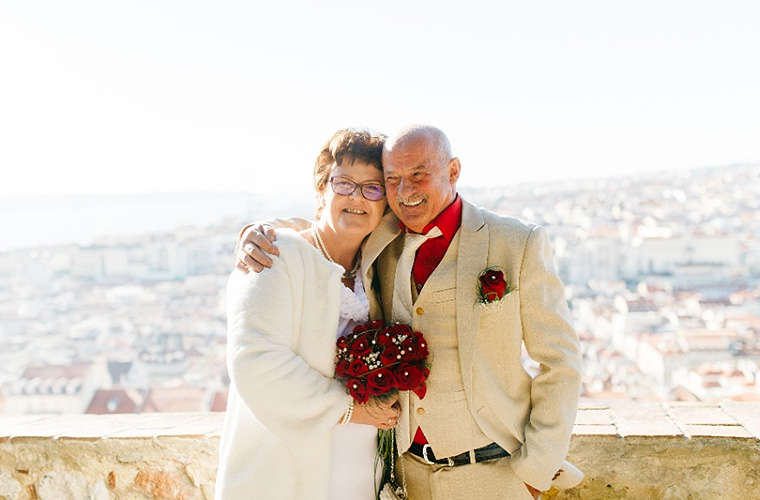 Your vow renewal can be as elaborate or as simple as you'd like. Whether it be a large festive celebration with a hundred or more guests or a small quiet ceremony with just you and your partner, your ceremony is a personal experience. Follow the tips below to help you plan your second, (or third) special day!
This is down to you. A renewal of vows can take place any time after your actual wedding—from the next day to 20 years late. Whilst some couples prefer to renew their vows after a milestone anniversary, others would be happy to do it every year. The only right time to do it is when you and your partner feel like it's the right time.
Where to hold your ceremony?
You can renew your vows in a church, on the beach, in a picturesque garden or park, on a cliff overlooking the sea, on a sailboat or in your rented villa or home. In other words, anywhere you wish.
The only factor to take into account is where you're having the ceremony and the style you have opted for. With this in mind, feel free to dress up even wear your original dress/tux you wore the first time around if you wish. Or why not buy a new outfit for the occasion? For the bride, a cute cocktail dress, a formal gown, a suit, something that you like and feel comfortable in. You can choose to wear flowers in your hair instead of a veil, or a hat, and instead of a bouquet why not opt for a corsage. Whilst the groom might choose new suit maybe accessorising with a piece of jewellery given by the wife, cufflinks and/or a watch.
Whether or not to have Wedding Party?
Whilst attendants are not necessary for a vow renewal, you might decide to have your original bridesmaids and groomsmen to stand by you once again. If you have children or grandchildren you may choose to involve them in the ceremony, perhaps even have one of them, (or more) escort you down the aisle and/or have them do a reading during the service.
Should Someone Walk You Down the Aisle?
You are not required to have someone walk you down the aisle, but you could choose to have your children escort you, or decide to walk down the aisle together.
What Happens During the Ceremony?
You might choose to exchange your original vows, or you could decide to write original vows, maybe referring to certain moments of your marriage. Take this opportunity to think about how you feel about your relationship, how it has grown and changed, especially if decades have past since the last time you exchanged vows. After you've both spoken, you could exchange rings. These can be your original bands maybe with new engravings, such as the date of your vow renewal or something meaningful, or you could exchange new rings. You can have your children, close relatives and special friends do readings, whilst meaningful music is playing, basically the same as you would at a normal wedding ceremony.
You could have an intimate ceremony, with only close family and friends who you've known along the years. This said you could choose to host a large affair, inviting all your extended family and all your friends. We suggest that, unless you decide to have a big bash, you limit your guest list.
Should You Have a Reception?
Why not! choose any style that suits you best, from a barbecue or an intimate dinner to a fancy cocktail party or 3-course dinner as elaborate as any traditional reception. Even have champagne, dancing, and a cake—the full works. You could have your original wedding photo album on display so as to take your guests down memory lane, maybe even photos through the years of your marriage. Take a moment during the reception to thank/toast those that have somehow contributed to your marriage or helped you over the years, and allow them in turn to toast you. Don't forget to hire a photographer to capture the event.