It's easy to see why Portugal is such an attractive option for those wishing to get married abroad. Loved for its long, sandy beaches, mouth-watering cuisine, welcoming people, and gloriously sunny weather, Portugal is home to lots of incredible wedding venues and suppliers, so if you choose to tie the knot here, you're really spoiled for choice.
Here`s your step by step guide to planning a wedding: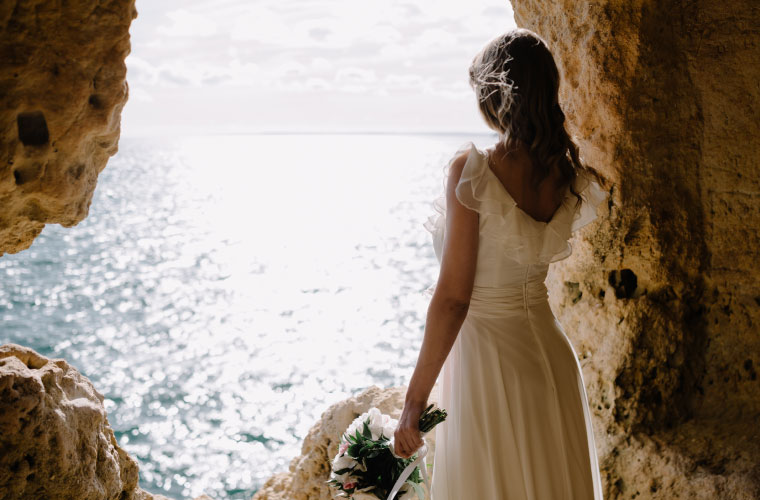 Requirements for a wedding
Naturally, if you're planning on getting married in Portugal, you'll need to understand the various legalities and requirements for a wedding here.
What You Need to Know Prior to Deciding to Get Married in Portugal.
Both civil ceremonies and Catholic church weddings are legally recognised. Religious ceremonies for all other churches and faiths must be preceded by a civil ceremony. The Anglican churches in Lisbon, Estoril, Oporto, and the Algarve, as well as the Scottish church in Lisbon, for example, are not licensed for marriages.
Same-sex civil weddings are permitted with the same provisions.
Currently, there is no legal residency requirement for a wedding in Portugal.
Foreign citizens do not acquire Portuguese nationality when marrying a Portuguese citizen. However, they may apply for Portuguese citizenship after three years of marriage.
The minimum age requirement for getting married in Portugal is 16. However, written consent of both parents is required for those aged under 18.
The Paperwork needed:
As you can see, only a minimal number of documents are required to get married in Portugal, nevertheless as an option you can have a civil wedding in your own country and we can organize your celebration (non-legal binding) in Portugal. Anything is possible!
When it comes to planning a wedding—you'll need to decide how much you're willing to spend on your wedding. It might not be the most fun part of the process, but it is an essential part that really needs to be established first.
The best part of planning your step by step wedding, is gathering inspiration. Think about how you want your wedding to look and feel. Are you going for a super-classic and formal vibe? Or perhaps an event that's more relaxed and rustic?
Whilst it's not necessary to have your final guest list until later on, when planning your step by step wedding, coming up with an estimated count early on is essential. There's a big difference between a 20-person and an 80-person wedding, particularly when it comes to your venue options
Think about which season you'd like to marry in — whether or not a weekend wedding is a must (generally more expensive and more sought after) or are you happy to have your wedding during the week (possibly less in-demand). Once you have decided on that, have a look at the calendar and take into account work schedules, holidays, family conflicts, etc., so as to narrow things down to a few choice dates. Having some potential, but flexible, wedding dates in mind will be very helpful whilst selecting the venue.
Now that you have a budget, an estimated guest count, and a few potential wedding dates in mind, you have all the information at hand for your next step, booking your venue — one of the most important parts of planning a wedding. Read online reviews of wedding venues, visit one in person if possible, and work with your partner to find your dream wedding location.
On our website we suggest following ceremony location and if necessary, reception location (a banquet/party location). In some cases, it can be the same place where you can have your ceremony followed by a party afterwards.
Optionally you can book a Personalized Ceremony Location planning service, your wedding planner will be able to give you a personalized quote.
You've officially set a date for your wedding—and so the real fun begins!
Start the paperwork process
Think about the dress/rings
Create a Wedding Website (and Wedding Hashtag!) /Send invitations
Setting up a wedding website is a fun and easy way to keep your guests in the loop, and an essential step to planning a wedding. Make sure to include all of the relevant information about your big day on your website, such as – date, location, travel information, room block details, and more. Now's also a good time to create your wedding hashtag to use on social media leading up to your wedding day.
Confirm Your Wedding Details with Wedding Planner/Vendors
Our inquiry will help you analyse all the aspects of your exciting wedding preparation process and help us to give you a more precise quote and to serve you better.