A beautiful wild beach located between Lagos and Sagres and our number 1 beach wedding location. Here you can have a wedding ceremony in the summer without being surrounded by tourists. Even in the high season, there are few tourists and for most weddings, held between 10 am and 12 o clock you will have the beach all to yourself.
Access to the beach and parking are good, so you do not need to walk far to get to the beach. To get to the beach you need to drive on dirt track of approx. 1.5km which is in good condition. We have already had classic cares driving down the track without any difficulties.
Costs: from 450 €* for the beach license and coordination + the Fees for the civil or celebration ceremony.
 *for a duration of 2 hours and up to 20 guests. For a longer duration and/or more guests and weekends costs may increase.
Contact us to book this location.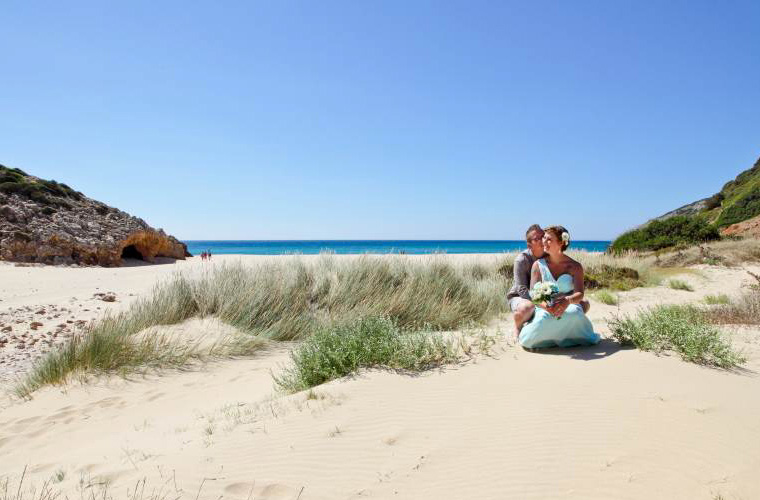 Directions: from Lagos, in the direction Sagres. On the N125, after the Intermarche supermarket (on the right, approx.. 10 minutes after Lagos) there is a turning to the left in the direction of Figueira and Salema. Then turn to right to Figueira. Pass the village and after there is a sign to Furnas to the left, drive until the next sign (1-2km) and then +/- 1.5km dirt track, after approximately 1 metre you'll need to turn left. There is no sign, but there is kind of a mini bridge with a bit of tarmac which you can't miss, and you will see a building high up on the left hill side.