The ice-cream bike is a winner with guests of all ages and offers an excellent alternative for dessert and /or a refreshing treat after a wedding
ceremony
Book a unique hire service, providing a choice of premium quality handmade ice cream. Ice-creams are served by friendly professional staff.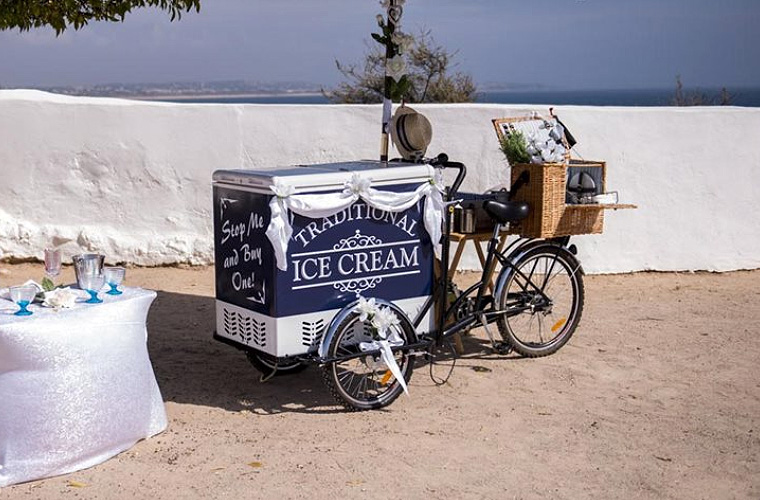 Package includes
Hire of our traditional style ice-cream bike with fresh flowers making it a great photo
opportunity
Set up and service for 2 hours.
A choice of 4 flavours on the day from a list of over 50 flavours.
Premium waffle cones
Complimentary serving table with delicious sprinkles, toppings and sauces.
Personalised menu board of your selected ice cream flavours.
Service with a smile.
We cover the entire Algarve area
Flavours
Chocolate
Vanilla
Stracciatella
Cinnamon
After Eight
Coffee
Coffee & hazelnut
Pistachio
Ferrero Rocher
Oreo
Strawberry Swirl
Peanut Butter
Coconut
Rum & Raisin
Honey and rosemary
Creme Brulee
Smarties
Walnuts
Cheesecake
Speculoos
Praline
Lavender
Fresh FIg
Almond
Chocolate & Banana
Japanese Green Tea
Wasabi
Tiramisu
Caramel
Sweet Potato
Maria Biscuits
Salt Flower
Brownies